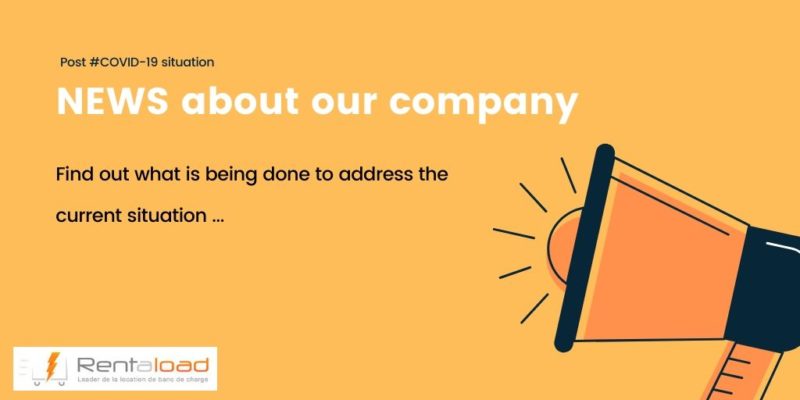 1. Before containment periods in the main European countries,

deployment of a continuity plan

within Rentaload for:
Organizing work at home
Continuing on-site jobs in France but also in Germany, England and the Netherlands
Maintaining a small team, with all necessary health cautions to:
Carry out preventive maintenance and further improve the reliability of our equipment
Upgrade our entire fleet of 100/200/300 kW load banks to connected solutions – (Cf. article "COVID 19: Threats or opportunities for Rentaload".)
Develop new accessories to facilitate the implementation of our equipment on-site (ex : new tap-off connectors)
2. Returning to

"normal" activity

since mid-May by:
Respecting all anti-COVID hygiene directives and implementing additional measures to protect our employees but also our customers & people likely when handling our equipment:
Drafting of a charter of good conduct about COVID-19 recalling good practices both in the workshop and offices but also during on-site jobs.
« Quarantine » (4 days min) of all load banks returning from client sites
Adding specific instructions on the handling and use of our equipment (use of systematic gloves) in our user guides
Addinappendix dedicated to the prevention of risks related to COVD-19 in our RAMs
3. Strengthening of existing

partnerships

and approaching new partners for:
Accompanying local contacts on their various projects in an even more personalized way
Creating new supply chains to improve responsiveness
Co-investing in new equipment to strengthen our fleet, including the integration of 6 new-generation 600 kW load banks into our fleet in partnership with H&N Energien GmbH.
If you missed it, check out our article "The sens of partnership in time of crisis"
4. Standardization of solutions with

connected loadbanks

to reduce the number of people involved during tests:
Upgrading the existing fleet, now fully connected, up to a total of 10 MW with on-floor loadbanks and up to 3 MW with rackable loadbanks.
Piloting of the entire "connected" installation by a SINGLE person during all IST commissioning tests with centralized feedback and data collection.
… for a saving in time compared to so-called "classic" solutions of around 20%.
If you missed it, check out our article "Optimize your Data Center remotly and limit the risks"
>> The whole Rentaload team is at your disposal to accompany you on all types of projects.
Feel free to contact us or follow us on our social networks LinkedIn & Twitter to be up to date on Rentaload news!