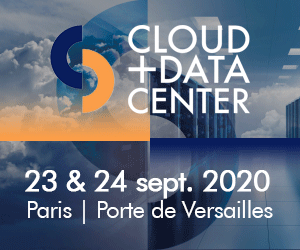 Resumption of the "Cloud + Data Center" tradeshow, September 23 and 24, 2020
Due to the CORONAVIRUS, the "Cloud + Data Center" tradeshow, which was originally scheduled for March 18 and 19, has been postponed and will finally take place on September 23 and 24, 2020. The event will take place in Paris, Porte de Versailles. Obviously all the necessary sanitary measures will be put in place to ensure everyone's health and safety.
The Minister Delegate for Foreign Trade and Attractiveness, Franck Riester has indeed announced the resumption of fairs and exhibitions in France from September 1, 2020 when it represents less than 5000 people.  This is the case for the trade show we are participating in. In addition, the organizers have effective means to control the number of people wishing to enter the show, so they can easily regulate the number of visitors if necessary.
Rentaload, exhibitor at the "Cloud + Data Center" show, September 23rd and 24th, 2020
Rentaload will participate and exhibit at the "Cloud + Data Center" on Wednesday 23rd and Thursday 24th September 2020 on its booth A20-B19. We will share the booth with our partner ROSENBERGER OSI. 
We are waiting for you!
This will be the opportunity for you to come and meet us and discover our new products: 100/200/300 kW Low Delta T connected loadbanks (with supervision software allowing live measurement feedback during tests). It will also be the opportunity to exchange together on the market, new trends, actors and future projects! Enough to relaunch the business after this rather complicated period for all …
Download your FREE visitor badge : https://www.datacenter-cloud.com/visiter/ and come and visit us !
Download also the complete program of the show: HERE 
Rentaload's sales director, speaker at the "Cloud + Data Center" exhibition
Rentaload's Sales Director Jérôme DERATHE will participate in a conference on Thursday, September 24, 2020 from 9:30 to 10:30 am on the theme "Piloting and optimizing the datacenter" along with other speakers.
Of course you are welcome to attend this conference and exchange with him on this important topic that represents the piloting and optimization of a datacenter today.
To find out more about our products, please visit our dedicated page. 
If you have any questions or if you would like to make an appointment with our sales manager during the show please do not hesitate to contact us,