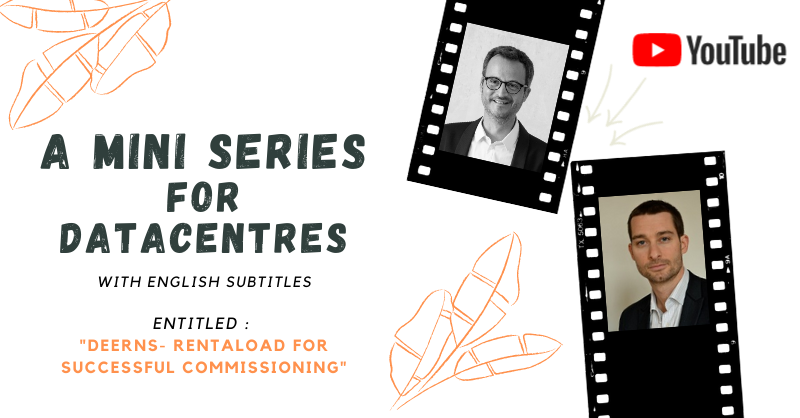 Deerns & Rentaload : The experts in the "Test & Commissioning" phase for datacentres
As a reminder, Deerns is a Fluids engineering design office and Rentaload is an equipment rental service provider (*) for testing datacenter infrastructures.
(*) loadbanks & measuring devices 
They have been partners for several years and work together with datacentres in an extremely complementary way.
On the "Test & Commissioning" phase, Deerns has a global vision of the project and is able to propose upstream a "Testing & Commissioning" strategy in order to optimize both intervention times and feedback. Deerns intervenes as a knowledgeable consultant in the design part and in the "testing & commissioning process approval part. It relies on Rentaload equipment which perfectly simulates the operation of a datacenter (rackable loadbank acting as a real server simulator). Inded, Rentaload offers qualified equipment with measuring instruments that allow Deerns to verify the acceptance criteria of their tests and to establish reports in a synthetic and professional way.
It is for all these reasons that it is a perfectly complementary duo for datacentres!
That's also why Rodolphe HUARD, the Director of the Datacentre pole at Deerns France and Pierre-Luc BARBE, the Operational Director of Rentaload have decided to answer the questions of the journalist Yves GRANDMONTAGNE (from Datacenter Magazine) about the "Test & Commissioning" phase for datacenters.
>> You can find these questions and answers on our YouTube channel through our web mini-series entitled "Deerns-Rentaload for Successful Commissioning!" (in french version).
BIG NEWS

: we have had one of the videos translated into English so that all our clients can understand the answers provided by our experts on the "Test & Commissioning" phase for datacenters !