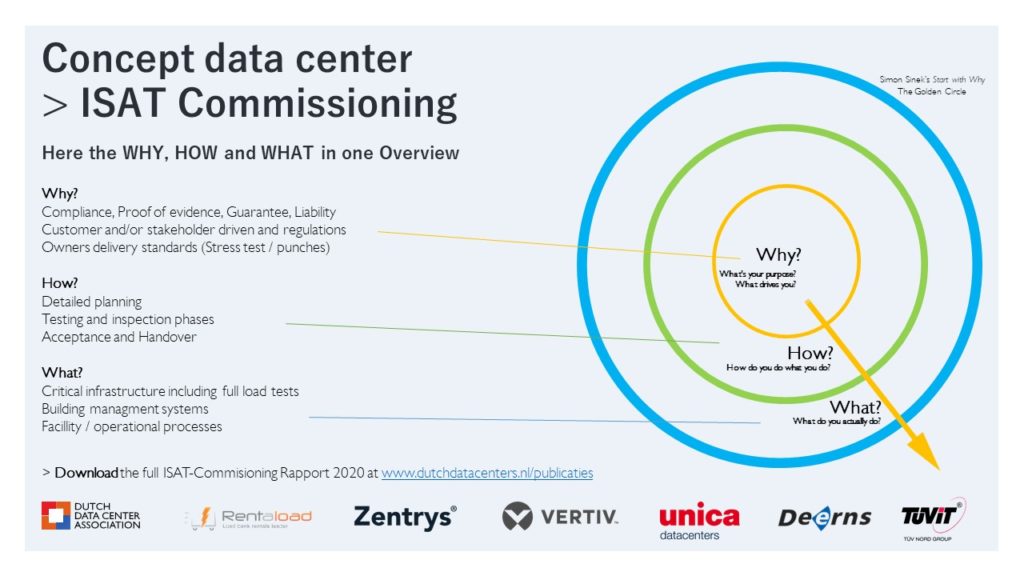 1. WHAT ?
A COMMISSIONING GUIDE.
The DDA (The Dutch Data Center Association) has partnered with Rentaload and several major datacenter players in the Netherlands to develop a guide to Commissioning. Among these important players : VERTIV, UNICA datacenters, DEERNS, TUV NORD GROUP, ZENRYS
Inside this Commissioning guide you will find : expert advice, tips, tools, best practices and cases. It is a really rich and attractive content  !
2. FOR WHO ?
FOR ALL DATACENTER OWNERS & USERS, related to the Test & Commissioning phase .
3. WHY ?
TO HELP THEM TO CARRY OUT OPTIMIZED TESTS IN THEIR DATACENTER.
When building a new data center, the owner of the data center has no guarantee that the various physical infrastructure subsystems – power, cooling, fire suppression, security, and management – will work together. Commissioning is the process that reviews and tests the data center's physical infrastructure design as a holistic system in order to assure the highest level of reliability.
In this report, we explain why professional commissioning is the key to quality, sustainability and time-to-market as digitalization continues to grow.
4. HOW ?
THROUGH 2 VERSIONS OF COMMISSIONING GUIDE AVAILABLE.
a short version (7 pages)
a long version (50 pages)
The short version includes different parts:
1. Data centers commissioning ; Commissioning has now become a business necessity
2. Why do you need a commissioning?
3. How? The differents steps
4. what ? Defining the different commissioning phases
5. Requirements ? Defining the different commissioning requirements
The long version is more detailed and includes 3 main parts :
1. The digital eoconomy is the economy
2. Commissioning, Benefits & Processes
3. Best practices & cases
Do you have a Commissioning project for your datacenter – in the Netherlands?
Below is the contact person at Rentaload for all Test and Commissioning projects for your datacenter in the Netherlands :
Ab VINGERLING 
Mob : + 31 (0) 625108422
Mail: ab.vingerling@rentaload.com
Do not hesitate to contact him for more information.