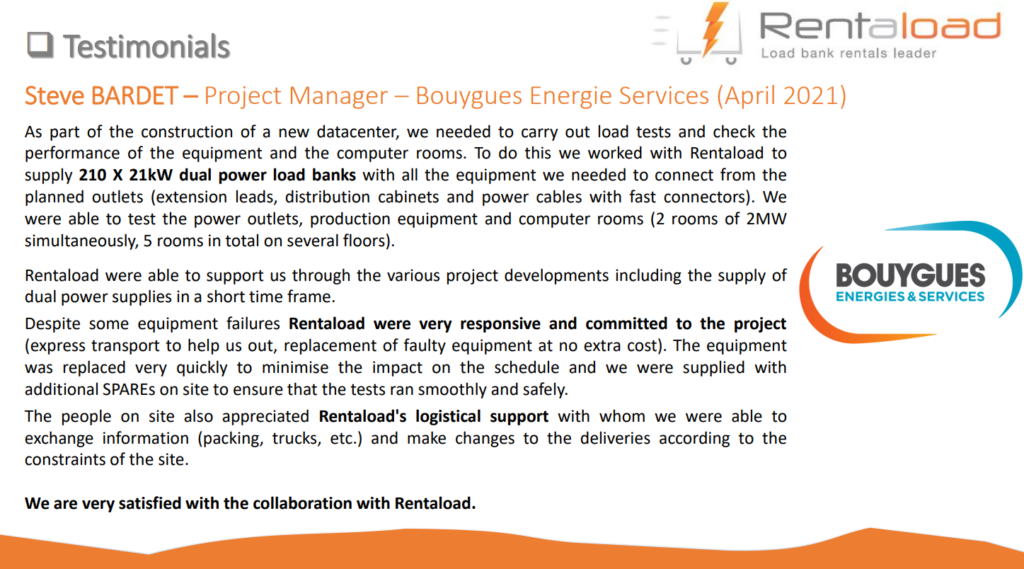 We were contacted by Bouygues Energie et Services to carry out tests for a new Parisian datacenter and to verify the performance of the equipment and the IT rooms.
So we rented them 210 X 21 kW loadbanks with a first phase in double chain and a second phase in single chain and with all the equipment they needed to connect from the planned outlets. So as you can see it was a big an important project ! (2 rooms of 2MW simultaneously, 5 rooms in total on several floors). And we were very proud to participate to it.
Steve BARDET, Project Manager at "Bouygues Energie and Services", gave us a nice testimonial following the services provided by Rentaload.
And in relation to the service provided by Rentaload, our client highlighted the strong points of this service, which according to him are:
Reactivity (express transport, defective material replaced immediately without any extra cost …)
Commitment
Rentaload's logistical support 

Accompaniment on the different evolution of the project
The tests went well and we are delighted that our client was satisfied with the service we provided.
> If you too need to perform load tests, do not hesitate to contact us; we will present you our products, services and we will propose our best offer! And if you have any questions about our activity or a project, please do not hesitate to contact us : contact@rentalaod.com
in the meantime, we invite you to discover the complete range of Rentaload loadbanks HERE.