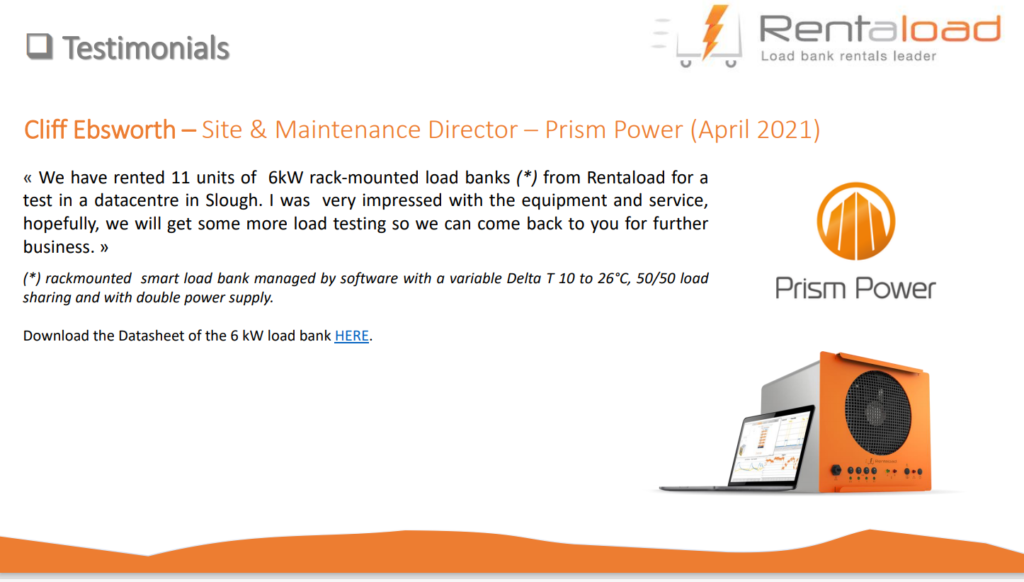 We worked with Prism Power who contacted us because they wanted to do some testing in a datacentre in Slough, in England.
As a reminder, Prism Power focus on the design, manufacture, installation and maintenance of industry-leading electrical switchgear, critical power systems and power monitoring solutions. You can have a look on their website.
We rented them 11 load banks of 6 kW last generation (variable Delta T 10 to 26°C, 50/50 load sharing and with double power supply and connected version to have measurement feedbacks).
Cliff Ebsworth, site & maintenance Director of Prism Power, gave us his testimony following the service provided by Rentaload .
As you can see, he says that he was really impressed with the equipment and service provided. This is a very good thing! We are happy to see a satisfied customer.
> If you too need to perform load tests, do not hesitate to contact us; we will present you our products, services and we will propose our best offer! And if you have any questions about our activity or a project, please do not hesitate to contact us : contact@rentalaod.com
in the meantime, we invite you to discover the complete range of Rentaload loadbanks HERE.