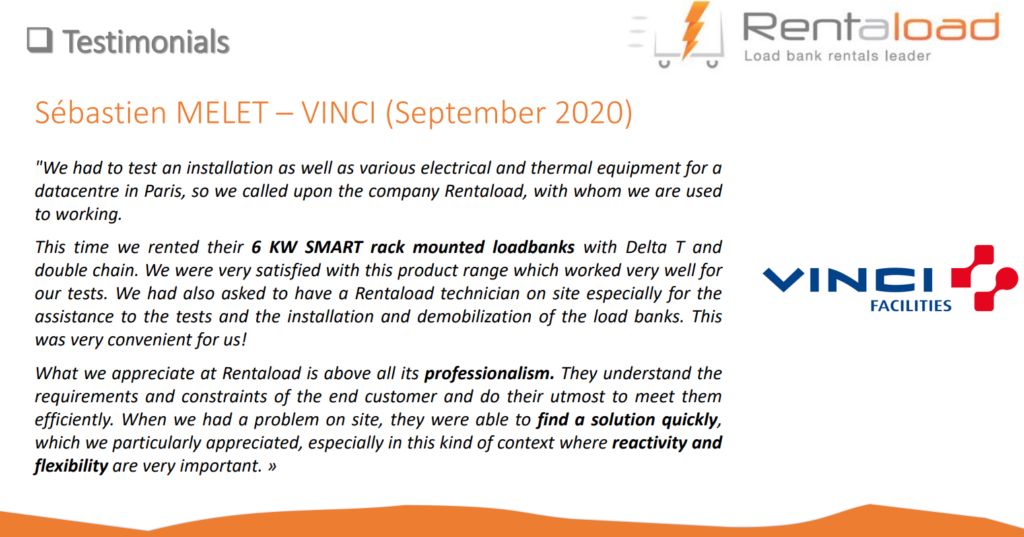 We collaborated with Sébastien MELET, Business Manager at VINCI Facilities Data Center & Telecom. VINCI Facilities has been an expert in the operation of Data Centers and sensitive sites for over 20 years. They accompany you on a daily basis to ensure the continuity of your server rooms.
So they called on us to rent rack-mounted load banks to test electrical and thermal equipment specific to the datacenter. And we also managed the installation of the loadbanks on-site as well as assistance in carrying out the tests on site.
Following the service provided by Rentaload, the customer brought up several positive points:
The functionality of the loadbanks
The on-site service (installation and test assistance) which was very practical for them (20% time saving) good knowledge of the equipment
A professional team who knows his job and understands the requirements and constraints of the end customer
A good reactivity and flexibility
We are delighted to see that our clients are satisfied with the services provided by Rentaload. These positive aspects raised by our clients are very important to us. We want to put them into practice every time we provide our services.
> So if you too need to perform load tests, do not hesitate to contact us; we will present you our products, services and we will propose our best offer! And if you have any questions about our activity or a project, please do not hesitate to contact us : contact@rentalaod.com
in the meantime, we invite you to discover the complete range of Rentaload loadbanks HERE.