Rentaload has just launched a new product: a SMART distribution board for our 21 KW loadbanks.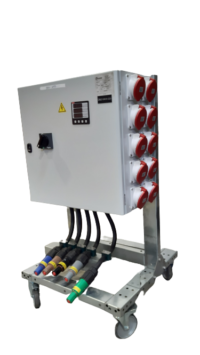 Features of this "SMART" board :
Display on a meter following values : P / U / I
On-live readings that can be cross-checked with values from the BMS
Easy identification in case of a failure on load bank
Download our data sheet for our SMART 210 kW distribution board
Currently 18 of these distribution board are available for rental from Rentaload.
For more information or to rent one, please contact us directly at : contact@rentaload.com
Rentaload is able to accommodate any electrical configuration of the proposed rooms even if it means deploying temporary distribution board.
For your information the 210kW temporary power distribution board allows for the connection of 10 x 21kW – 32A/400V load banks (or 30 x 220V 32A rack mountable banks). Connected at the input by 120 mm² cables equipped with Powerlock, the distribution board can be supplied by the main electrical panel of the computer room. Mounted on a metal frame with wheels, the temporary distribution board are easily moved from one room to another.