Rentaload currently offers for rental 7 MW of SMART 21 kW aerothermal loadbanks.
Because they have a "connected" function.
You can therefore combine up to 240 21 kW loadbanks at the same time. Thanks to their supervision software, you will be able to control them remotely while transmitting precise instructions.
You will be able to manage a whole fleet of charge banks remotely!
You will even be able to collect extremely precise data during tests thanks to their connected function which allows live recording of the data from the IT room (P/U/I/Delta T).
The connected function of our loadbanks has two main advantages:
– A time saving during the realization of your tests on-site (up to 20% of time saved according to our customers) thanks to the remote control and the directives sent from the supervision PC;
– An added value to your tests thanks to the data collected.
Guarantee the efficiency and reliability of your infrastructure thanks to optimized tests with our connected 21 kW loadbanks.
The new generation of 21 kW load banks also offers an improved delta T, from 35K, to allow a better distribution of heat in the data room in order to efficiently reproduce hot and cold aisles.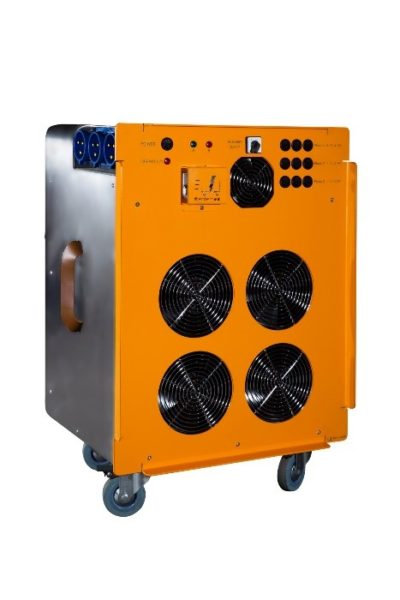 FEATURES :
– Integrated STS to switch between channel A and channel B, without having to disconnect and reconnect cables;
– Remote execution and management of up to 240 load banks simultaneously ;
– Software-based management. Simplification and reduction of test time ;
– Data logging through connected function ;
– Better ∆ T° (Low delta T°: 35 K at full power) ;
– Higher cut-off temperature ;
– Smaller resolution: 1 kW ;
– Units on wheels on the floor for easy handling (rather light, narrow load bank with handles and therefore easily maneuverable within your IT room) ;
– Double power supply to test 2 busbars (single or three phase).
A PERFECT SOLUTION FOR DATACENTER TESTING
This is an intermediate solution between the rackmounted loadbanks and the high power 100/200/300 kW Low Delta T. It is a perfect solution when your racks are not yet in place, but you still want to have a good thermal load distribution in your computer room.
Moreover, this equipment is perfectly designed to simplify your life (small wheels, leather handles, a rather light weight). You can easily move it through doors, stairs or ramps.
As you can see, this is an extremely handy and practical product!
CONNECTION OF THE 21 KW LOAD BANKS
Don't worry about the connections, we have what it takes. Rentaload can adapt to all the electrical configurations of the proposed rooms. We can provide single or three phase cables of various lengths as well as 210kW distribution boards.
These Distribution Board allow you to connect 10 loadbanks 21 kW – 32A/400V.
Learn more about our new 210 KW SMART distribution cabinet (with data display).
Do you need more information?
Please contact us directly at : contact@rentaload.com