The reasons and the novelties
After several months of intense work, we are pleased to announce the launch of our new website!
This new site features some key changes such as the redesign of the menu or the complete modification of the content of the pages. Among other things, the deletion and addition of certain pages to be in line with our activity today. We have even reworked the design and ergonomics of the website to make your user experience more enjoyable.
Everything has been redesigned to simplify your life and help you quickly and easily understand what we offer today. Find out below:
the customer benefits that this new site represents for you,
the changes made
the news
the reasons for our redesign.
FOCUS ON THE CUSTOMER ADVANTAGES OF OUR NEW WEBSITE
Our new site has many features that we invite you to discover throughout your journey.
These different features are a real customer advantage because they offer you a user experience that stands out considerably from the competition .
They allow you to:
➡ simplify your contact and discussion with our teams;
➡ always send you more feedback and useful advice free of charge;
➡ make our site accessible to everyone , regardless of country and language of origin.
Among these features:
"Quote request" or "contact" forms available 24 hours a day: when you have a project or need to rent load banks, you can fill them out at any time and we will get back to you as soon as possible. promptly.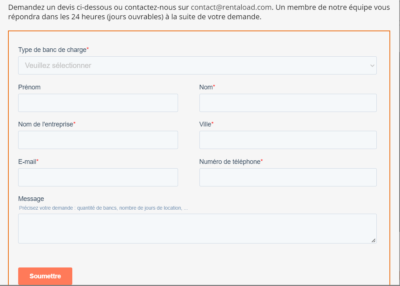 The live chat to answer all your questions live . If we are not available, you can leave your email address and we will contact you shortly.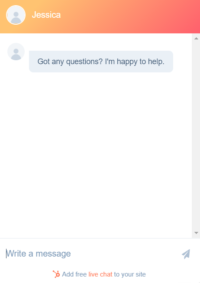 A "resources" section to benefit from free best practices and tips for your commissioning relating to load banks and datacenters: customer testimonials, case studies, blog articles, web mini-series, white paper and commissioning guide , FAQs etc.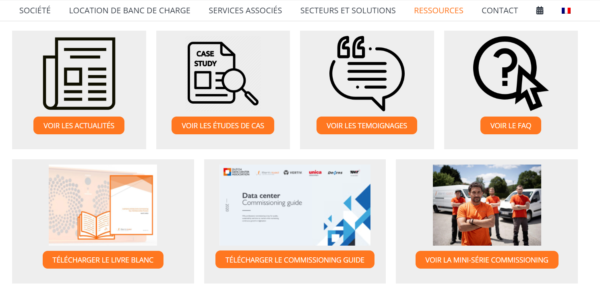 The calendar to view the different Datacenter events in which we are participating in 2022. Do not miss the key events in your sector and stay in touch!

A multilingual website to suit everyone: in English, German, Spanish and Norwegian.
FOCUS ON THE MAIN CHANGES MADE
Have you been able to see all the changes made to our new website? A brief overview
Menu change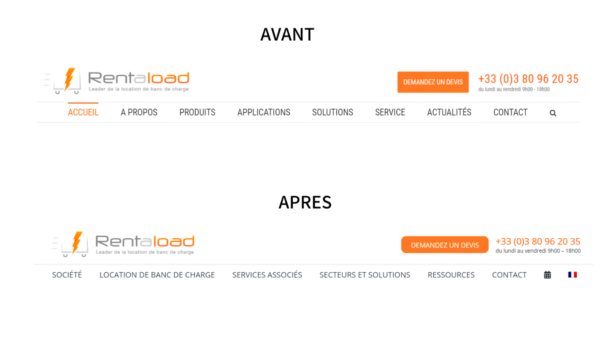 Find the information you are looking for more easily thanks to the new sections which are much more explicit: company, load bank rental, associated services, sectors and solutions, resources and contact.
The new menu is much easier to understand. It is also more consistent with our target and our activity today.
You can also find your business sector more easily as well as the different types of tests we offer thanks to the new "Sectors & Solutions" section (which is in fact a merger of the old "applications" and "solutions" sections).
We have updated in this section the different sectors in which we operate (datacenter, health/hospitals, maritime, industry and tertiary). Some sectors in which we no longer intervene have therefore been deleted and others have been added. We have also updated the different types of tests . For example, we have added "IST commissioning" tests as well as electrical and air conditioning tests for datacenters, in addition to those already existing since we are now specialists in "datacenter tests".
2. Change of content on all pages of the site.
For information, all the pages of our new website have been reworked in terms of content. Some have been deleted because they no longer correspond to what we offer today and others have been added (such as commissioning tests for example) in order to be completely in line with our current activity.
Example "Services" page before – after
Benefit from much more complete and much more detailed information on all the pages of the new site in order to have all the elements in your possession during your search;
Benefit from content that is both rich, coherent and representative of our activity (completely in line with what we offer today) and thus benefit from the latest information in real time;
Find us faster on search engines thanks to the SEO optimization that has been done on our new website. Indeed, we have reworked the key words as well as the various elements of language on each of the pages of our new site in order to be as close as possible to what you are looking for today on the Internet.
3. Change from the "News" section to the "Resources" section
Unlike the old site where you simply had articles and news, we now offer you a whole bunch of tools and resources that may interest you and serve you in your sector of activity: books white paper and downloadable guides, case studies, customer testimonials, FAQs, etc.
We no longer speak of news but of "Resources" . Hence the page modification.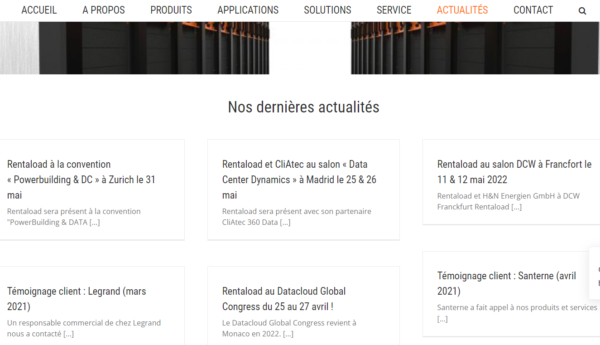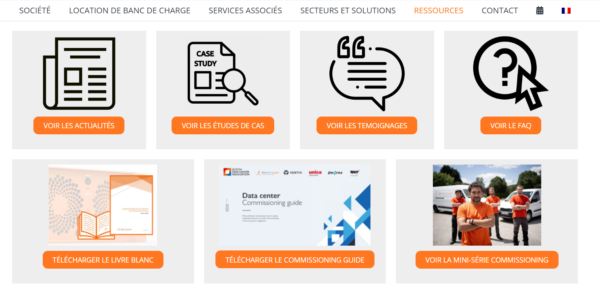 Thanks to this "Resources" section, get information for free and become an expert in your sector of activity!
4. Changed the menu with the addition of a small calendar

Find thanks to this small calendar all our events planned for 2022; you can keep informed of events taking place in your sector of activity (in France and abroad) and decide to participate!
This is new on our website!
5. Change of site with Norwegian and Spanish versions
You can now find our entire new website in Spanish and Norwegian versions.
This is also a great novelty since before the site only existed in German, English and French versions (with a few landing pages per country). When redesigning our site, we therefore decided to make it available in Spanish and Norwegian versions. Indeed, our activity tends today to develop in these two countries.
To discover all the changes made, it is best to browse our entire website! So, happy reading 😊
FOCUS ON THE MAIN REASONS WHICH MADE US CHANGE WEBSITE
We decided to redesign our website for several reasons:
be in tune with the evolution and positioning of our company today ;
The Rentaload website was created in 2015. However, many things have changed in 7 years. Rentaload has never stopped evolving, growing and innovating. Thus, our website no longer reflected the reality of our activity at all: neither our image nor our positioning.
We wanted to give you the right information and make it quick and easy for you to understand what we are offering today:
"datacenter-based expertise",
"a rental of smart and connected equipment",
"commissioning solutions for data centers",
"a service" etc.
Important points for us that were not on the old website.
This new site is therefore more representative of our company. It is now consistent with our image and positioning.
Have a website that is more ergonomic, more attractive and more accessible to all for a more responsible digital
Have you noticed the various "aesthetic" changes on the new website?
We have reworked the font, the colors, the shapes but also the different blocks appearing on the new website (eg: "the different types of tests", "the associated services", "the Rentaload guarantees" etc.). This makes it possible to have a certain visual harmony and a real modernity on the whole site.
The old design dated back to 2015, so we wanted to give it a boost. We now have a more ergonomic and attractive design.
Also, this new site has been designed for everyone. It is, for example, accessible to "visually impaired" people thanks to the colors that we have specially chosen. It makes reading easier and more enjoyable.
We also wanted to improve the user experience on our website. In particular, by helping you, for example, to find the information you are looking for more easily.
The customer journey is therefore much more intuitive and simpler than before.
You can see many Call to Action to facilitate the discovery of our products, our services, our company but also our different types of tests.
With this new site we simply want to inform you as well as possible and facilitate contact and exchange with Rentaload.
Improve the visibility of our site on search engines
The existence of a site loses all its meaning if it is invisible to Internet users. Hence the importance of working on the natural referencing of your site. Search engines are constantly evolving and so are SEO optimization techniques. A site created a few years ago, such as that of Rentaload, will no longer respond optimally to the current requirements of search engines, hence the need for an overhaul.
We have therefore worked well on the referencing of our website through various actions, in particular with keywords and language elements adapted to our sector of activity: "smart loadbanks", "connected loadbanks", "rental loadbanks", "resisitif loadbanks", "datacenter", "commissioning"… which correspond to the main requests of our customers and prospects today.
Here are the 4 main reasons that led us to redesign our website. This became more than necessary after 7 years of activity.
We now have a site consistent with our activity, both modern and attractive. It has been specially designed for the user, in order to make their experience as simple and pleasant as possible!
We hope you enjoy our new site.
Your feedback is of course welcome. You can write to us at: contact@rentaload.com
Good discovery !