Delta T low load bank 100 kW, 200 kW, 300 kW
Rentaload offers a range of 100/200/300 kW high power load banks dedicated to testing in large rooms with several MW of IT power.
With their low Delta T , they limit the overheating of computer rooms and thus overstress the air conditioning systems. In addition, their low heating prevents any damage to heat-sensitive peripheral equipment (lighting fibres, cables, fire detection system, etc.)
Available in " SMART" version thanks to their supervision software, they make it possible to collect extremely precise measurements (P/U/I/Delta T) during the tests. A sure way to add value to your tests .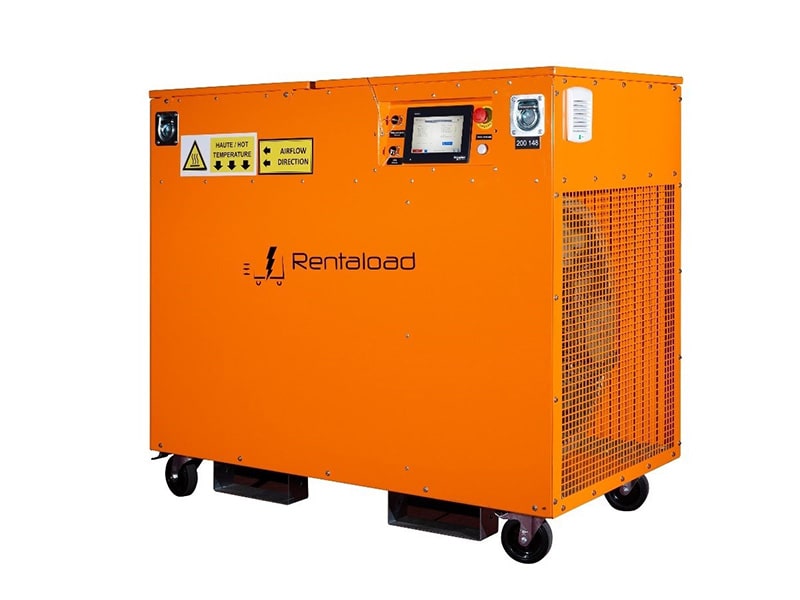 Advantages and features of the Delta T 100 kW, 200 KW, 300 KW low load banks
Ideally suited for data centre commissioning tests ;
Adaptable to different electrical configurations and choice of load distribution with a power range of 100 kW, 200 kW or 300 kW;
Guarantee of reduced heating of the IT room, thus limiting the risk of damage to equipment already present, thanks to a low Delta T (18K at 100 kW, 36K at 200 kW and 54K at 300 kW);
Save time installing and uninstalling with the standardisation of powerlock quick connectors on all load banks and associated cables;
Time saving in carrying out tests and in controlling load banks thanks to the connected version and its associated supervision software (up to 20% according to feedback from our customers);
Added value on commissioning tests with data collection (P/U/I) throughout the duration of the tests.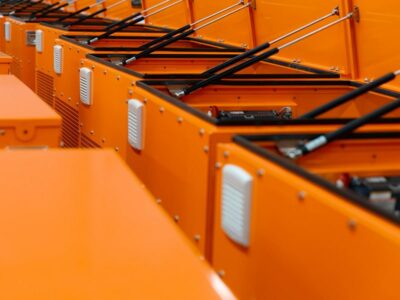 Ergonomic load banks for data centres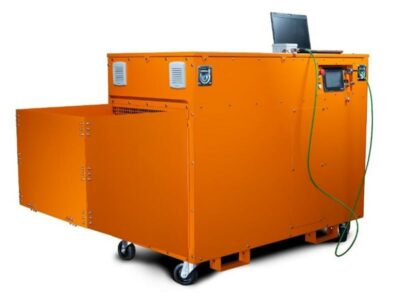 The Delta T 100/200/300 kW low load banks have been specially designed for use in clean rooms.
This is why they are:
Narrow so they can easily fit through different doorways;
Mounted on multi-directional casters, for easy movement in the data centre, including at right angles;
Equipped with powerlocks for super quick and easy connections;
Assembled with lifting rings and fork pockets for handling and lifting in complete safety.
Delta T 100 kW, 200 KW, 300 KW low load bank connection systems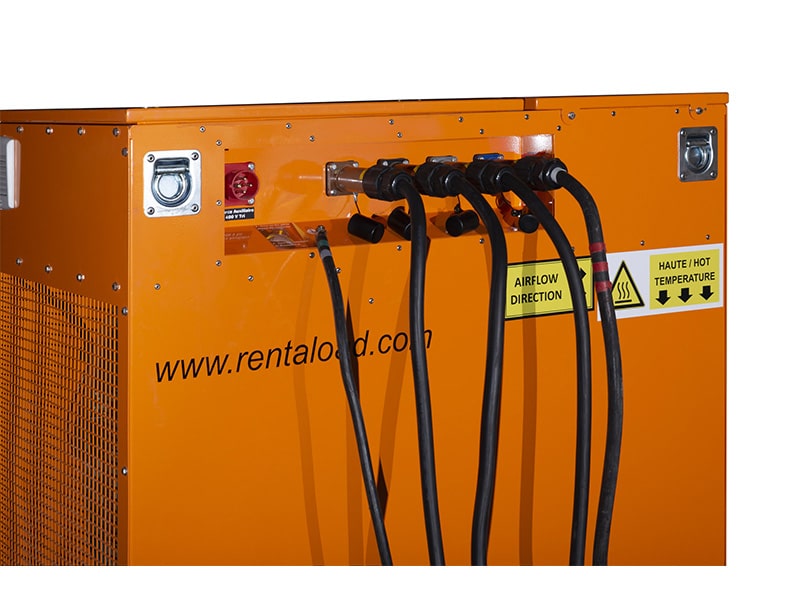 Rentaload adapts to all environments and all possible room configurations .
Both from an electrical point of view, with its numerous cables and temporary distribution cabinets, and thermally with its deflectors. These allow, in fact, to blow the air upwards if necessary. This ultimately allows for better heat distribution in the IT room.
Thus, we offer different types of cables for SMART 100/200/300 kW LDT load banks with ends (fittings) adapted to your needs:
Lugs (M10, M12)
Powerlocks type quick couplings
Stripped cables
The length of the cables and the different sections available make it possible to offer tailor-made solutions according to the environment and the constraints of the rooms to be tested.
Finally, the new temporary distribution cabinets for the 100 kW, 200 kW or 300 kW load banks on which several load banks can be connected together, make it possible to carry out an electrical distribution in the room and thus to optimise the distribution of the electrical and thermal load.
These new cabinets, fully equipped with fast powerlock sockets, both on the power supply inputs and outputs, offer easy connections in "Plug and Play" mode , synonymous with significant time savings.
Mounted on a metal frame on wheels, the temporary distribution cabinets are easily moved from one room to another.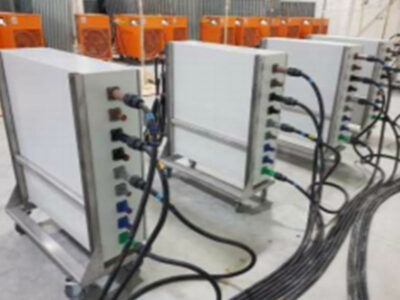 Measurement feedback with SMART 100 kW, 200 kW, 300 kW load banks
With Rentalab supervision software
This software allows you to control the entire fleet of connected load banks deployed on site, via a single computer. You can control up to 200 load banks at the same time. You can also collect extremely accurate data such as P/U/I/DELTA T, during testing.
Rentalab is also:
Programming of tests up to 72 hours (with different predefined scenarios);
Real-time plotting of supervision curves;
Recovery of thermal and electrical information from your recipe;
Edition of test reports.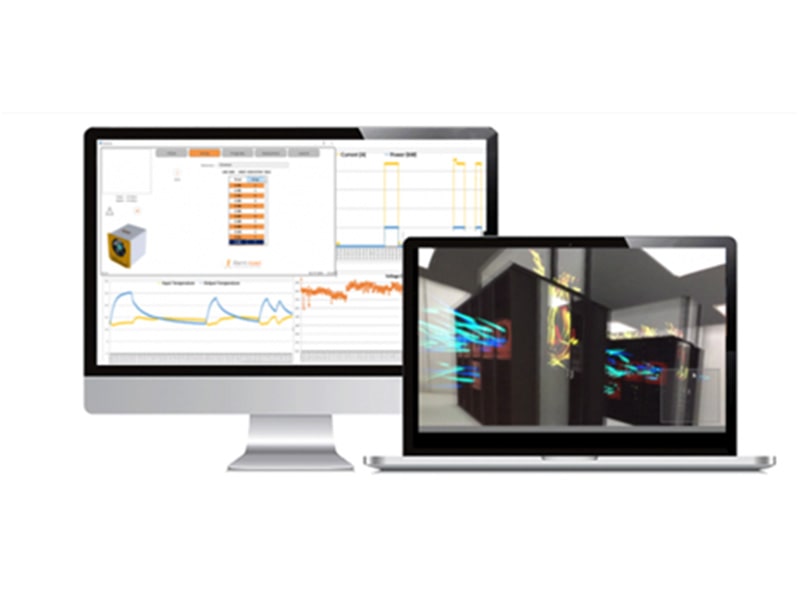 With EkkoSense supervision software
This software allows you to model your computer room in 3D. You can therefore navigate in your room, while collecting thermal data thanks to various wireless temperature sensors positioned in the IT room.
The deployment of this solution includes:
Temperature and humidity sensors;
An EkkoHub;
A 3G connection panel;
And all the associated connections, configuration and modeling.
Conclusion
Two different but complementary software programs that allow you to:
Save time in carrying out your tests

(up to 20% according to feedback from our customers);

Bring real added value to your tests.

The data collected during the tests provide a real "vital map" of the datacentre before its first commissioning.

Differentiate yourself from your competitors

by enhancing this test phase and providing valuable data for the future management of the datacenter.
With instrumentation accessories
Rentaload also offers a number of instrumentation and measurement accessories for hire. They complete the data collected through the software.
Thermal camera to analyse the various hot spots in IT rooms;
Anemometer to analyse air speed;
Analysers to provide network information;
Temperature sensors to analyse computer room temperature;
Humidity sensors to analyse room humidity;
etc
These accessories can be rented independently or in addition to Rentalab and EkkoSense software, depending on your needs.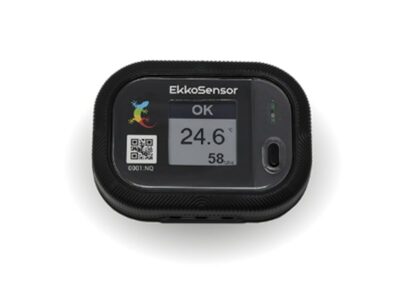 Technical table of Delta T low load banks 100kW, 200KW, 300KW
Type
Values
Power
100 kW (in 3-phase) 33 kW (in single-phase)
200 kW (3-phase)
300 kW (3-phase)
Height
21kW
21kW
21kW
Depth
1230mm
1400mm
1570mm
Lenght
770mm
770mm
770mm
Weight
180kg
292kg
350kg
Max voltage
400 V 3-phase – 50/60Hz 230 V Single-phase
400 V 3-phase – 50/60Hz
400 V 3-phase – 50/60Hz
Resolution
5kW
10kW
10kW
Power supply resistors
Power supply via quick connectors (Powerlock) 1 cable 120 mm²/phase
Power supply via quick connectors (Powerlock) 1 cable 120 mm²/phase
Power supply via quick connectors (Powerlock) 1 cable 120 mm²/phase
Auxiliary power supply
In/Out Selection button
In/Out Selection button
In/Out Selection button
Ventilation
In/Out Selection button
Control
Supervisory PLC Possibility of setting test cycles – Data collection
Services associated with the rental of load banks