Cables and accessories for load banks
We offer the cables and accessories associated with our load banks for rental.
Whether for rackable, high-power, resistive, inductive or direct current load banks, we have available the various cables allowing you to connect to your installations.
We also have accessories available, including measuring accessories to optimize your tests .
Rentaload has all the necessary equipment to allow you to carry out your tests. You should also know that we will constantly adapt to your environment and your electrical configuration on site!
Discover below our various cables and accessories associated with our load banks.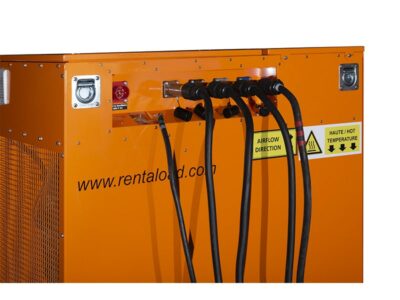 Benefits and Features of Load Bank Cables and Accessories
A wide range of cables: from 5m to over 40m and from 50mm2 to 240mm2 to adapt to any on-site configuration;
Powerlock cables for our 100/200/300 kW Low Delta T benches, for faster and easier connections / installations;
Extremely precise measurement feedback thanks to our various measurement accessories (thermal camera, current clamp, temperature sensors, etc.);
Optimization of your tests thanks to our various accessories.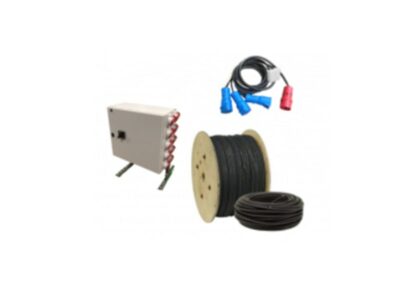 Our different cables for load banks
At Rentaload, we have different types of cables to power our load banks:
Cables for rack benches (6 kW, 7 kW)
-C19/C20 – 3m
-C19/UTE – 3m
-C19/UT-G – 3m
-C19/P17 16A – 3m
-2 C19/P17 32A – 3m
Cables for unit heater benches (21 kW)
-P17 32A MONO / P17 32A MONO – 3m or 5m;
-3 X P17 32A MONO / P17 32A TRI – 3m;
-P17 32A TRI / P17 32A TRI – 5m, 10m, 25m …
Cables for industrial benches (from 50 kW to 2.4 MW)
-Thimbed cables (10mm or 12mm) from 5m to more than 40m and from 50mm2 to 240mm2;
-Powerlock cables – lug for 100 kW, 200 kW, 300 kW Low Delta T benches and for 650 kW benches;
– Powerlocks – powerlocks cables for the 100 kW, 200 kW, 300 kW Low Delta T benches and for the 650 kW.


You will understand, with our different types of cables you can connect easily , regardless of your electrical configuration.
You can thus connect to the PDUs, to the electrical panel of the room, to a temporary electrical panel or even to the busbars.
Our connection boxes and temporary distribution cabinets for load banks
Rentaload offers connection boxes and temporary distribution cabinets for rental in order to efficiently connect load banks (in 16A or 32A).
The connection box is located downstream of the electrical panel, as close as possible to the installations in the field. It makes it possible to centralise the departures to the various electrical devices. For information, the Rentaload connection boxes each contain 3 entries.
The temporary distribution cabinet is used to distribute electricity to different electrical outlets or terminal outlets while protecting the temporary installation.
Rentaload thus adapts to all the electrical configurations of the rooms to be tested. This may involve the deployment of temporary electrical distribution cabinets or industrial 3-way junction boxes.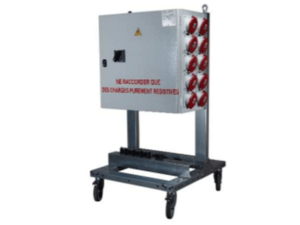 ⮚ Our 210 KW cabinets for 6 kW, 7 kW rack load banks or for 21 kW unit heater load banks
The 210 kW temporary electrical distribution cabinet can be used to connect up to 10 21 kW – 32A/400V load banks (or 30 rackable banks at 220V 32A). Connected at the input by 120 mm² cables equipped with Powerlocks, the cabinet can thus be powered by the main electrical panel of the computer room. Mounted on a metal frame with wheels, it is easily moved from one room to another.
⮚ Our 300 kW cabinets for Delta T low load banks 100 kW, 200 kW, 300 kW
Temporary distribution cabinets for 100 kW, 200 kW or 300 kW load banks, allow several load banks to be connected together. And this, with a reduced number of input connectors. These new cabinets are fully equipped with fast powerlock sockets, both on the power supply inputs and outputs. They thus allow easy "Plug and Play" connections. Mounted on a metal frame on wheels, the temporary distribution cabinets are easily moved from one room to another.
If you want to carry out redundancy tests to check your installations, we advise you to rent this ATS (Automatic Transfer Switch) box in addition to your load bank. This will allow you to switch the electrical load between channel A and channel B without having to disconnect and reconnect the cables.
This ATS is valid for standard 7 kW rack benches.
For more information on this subject, do not hesitate to contact us: contact@rentaload.com
Our shelves and shutters for rackable load banks
Rentaload offers you for rental and in addition rackable load banks, 19 and 21 inch shelves without screws or nuts. They are easy and quick to assemble shelves. They will allow you to position your equipment inside your computer racks at the desired location.
We also offer 1U and 15U shutters for hire, in order to close the various "holes" in your computer racks. Judiciously placed, the shutter contributes to a good "tightness" within the bays and avoids excessive mixing of hot and cold air during the tests.
⮚These ergonomic accessories specially designed for data center computer racks allow you to save time on your installations.
Our deflectors for low delta T 100/200/300 kW load banks
Among our accessories, we also offer rental deflectors for low Delta T 100/200/300 kW load banks. These deflect air from the load bank and redirect it upwards.
This makes it possible to limit the overheating of the computer rooms and therefore to overstretch the air conditioning systems. Their low temperature rise thus prevents any damage to heat-sensitive peripheral equipment (lighting fibres, cables, fire detection system, etc.).
With the deflectors, we actually have a better distribution of heat within the IT rooms.
Our construction equipment
Rentaload offers its customers site equipment to rent if necessary. Among these equipment:
⮚ This material is used to signal our interventions on site and to protect people working on site.
Our measurement accessories for load banks
Rentaload also offers a number of instrumentation and measurement accessories for hire. They complete the data collected through the software.
Thermal camera to analyse the various hot spots in IT rooms;
Anemometer to analyse air speed;
Analysers to provide network information;
Temperature sensors to analyse computer room temperature;
Humidity sensors to analyse room humidity;
etc
These accessories can be rented independently or in addition to Rentalab and EkkoSense software, depending on your needs.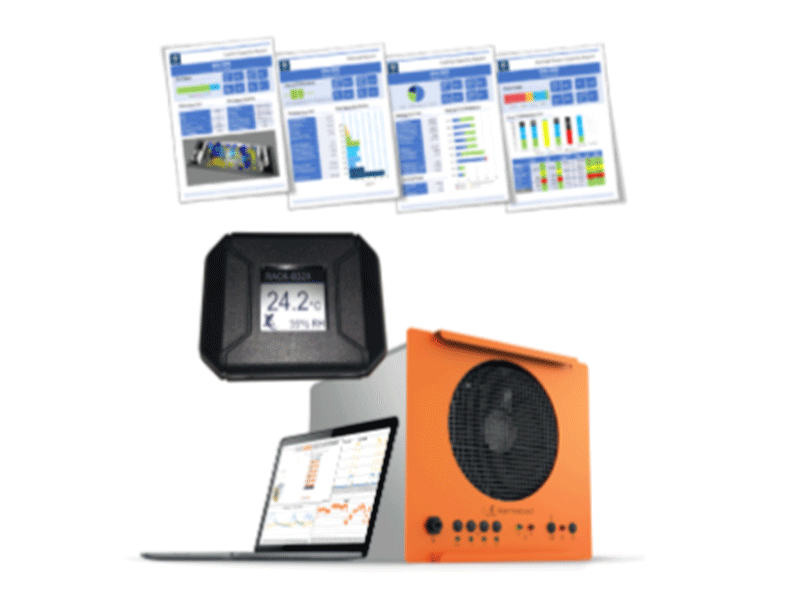 Services associated with the rental of load banks