CPD Galileo, one of our latest successes in Spain with our partner CliAtec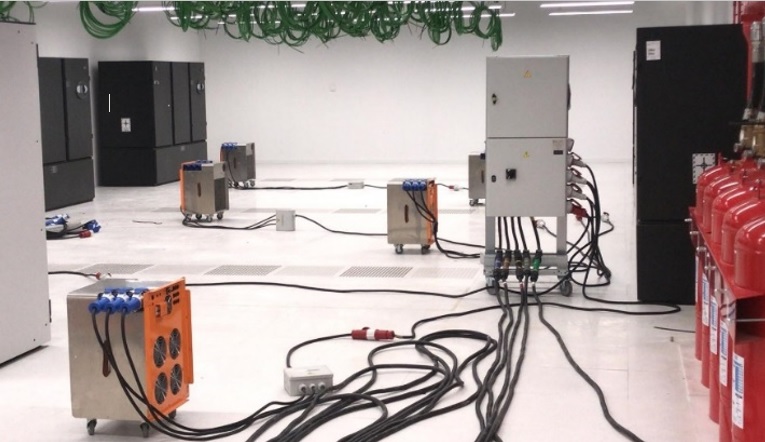 CPD Galileo: verification of cooling systems and UPS
Simulation of the thermal load of cooling systems
Before the entire IT infrastructure was housed in the Galileo CPD, the cooling and UPS systems, which are distributed over 3 branches, had to be checked, monitored and tested. Among other things to determine exactly :
if the cooling system was properly sized,
if the air flow was well distributed,
whether the backup equipment could act properly in the event of a temperature increase or failure of other air conditioning equipment,
to check the correct configuration, recirculation, bypass and adjust the airflow rates of the cooling system.
In order to verify all these points, CliAtec's technical office carried out the study, supply and installation of 21 kW smart and connected load banks in order to simulate the thermal load, taking into account that the total installed refrigerating power was 1,056 kW.
On the other hand, in order to verify the proper functioning of the UPS systems and the associated electrical protection systems, the load banks were connected to the different connection points of the three busbars in order to supply the entire electrical system of the future IT infrastructure.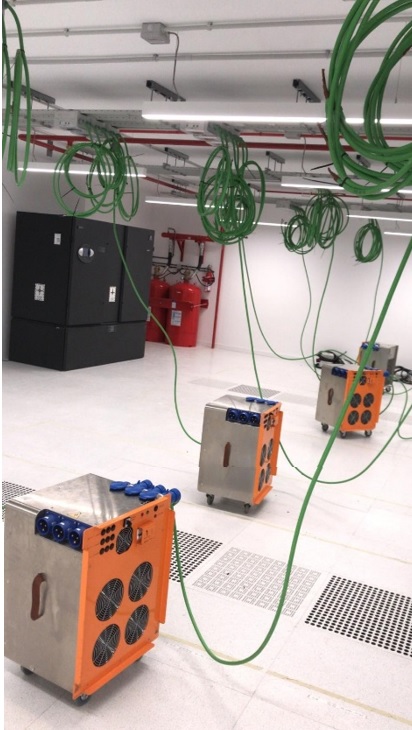 Intelligent loadbanks at different locations in the hall
For the development of this project, we used 21 kW smart load banks. Our partner CliAtec distributed them evenly in the room. The objective was to consider an equitable distribution in the three electrical branches and a correct distribution of hot spots to check the cooling systems.
They commissioned the equipment and performed the tests, simulating different power consumption and thermal load scenarios. In addition, thanks to the equipment monitoring system used, our partner and their team were able to record all data and document the commissioning tests.
This project is a real success in Spain for our partner and ourselves.
We were able to guarantee the proper functioning of the cooling system and UPS thanks to the tests conducted and the smart and connected load banks.
These tests eliminate all possible risks within the infrastructure (from an electrical and thermal point of view) and thus guarantee the complete reliability of the building, which is one of the most important points for owners today. Indeed, it avoids them to lose time or money in the future. It "secures" their infrastructure. This is a key step!
So, if you too have tests to conduct and need a trusted partner, do not hesitate to contact us.
Share This Story, Choose Your Platform!