Rentaload at DCW London on March 8 & 9, 2023
Come and meet Rentaload at DCW London in March.
Join us on March 8 and 9, 2023 at the Data Centre World in London. This show is the perfect place to discuss strategies and direction for our data center community for a more prosperous and sustainable future. The event will take place at the ExCeL exhibition center in London, UK.
Rentaload teams will be in attendance, so take the opportunity to discuss data center market trends, testing and commissioning optimizations, and future plans. We will be happy to discuss with you, please do not hesitate to make an appointment with us at the following address: contact@rentaload.com.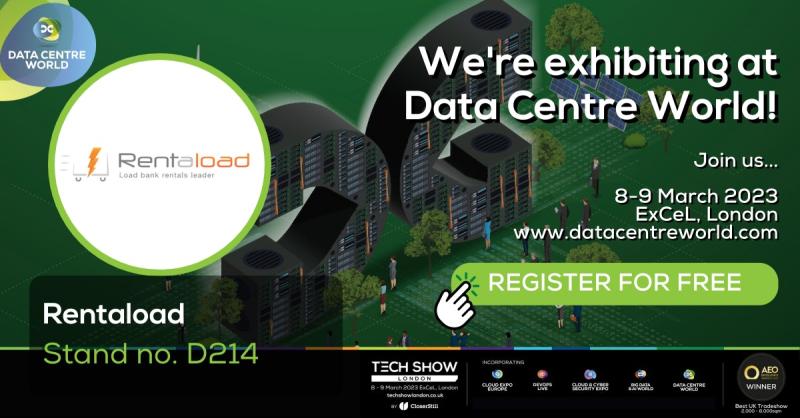 What are the opportunities at Data Center World in London?
Experience the largest gathering of data center professionals and end users at Data Center World. Shape the future direction of the community in conversations with over 100 influential speakers discussing key topics such as achieving net zero, cost-effective management, ensuring resiliency, and effective design.
> Register here.
Join thousands of leading C-level innovators working toward a common goal to enable a more sustainable, secure and successful data center future. You'll be in great company, as 54% of attendees are C-Suite and key decision makers. Develop strategies and discover solutions on the floor of the animated exhibition featuring Bouygues energies and services, Rentaload, Schneider Electric, and more.
More information about DCW London and Rentaload
Discover the largest gathering of data center professionals and end users. Data Center World is the ideal place to shape next-generation strategies and our community's direction toward a more prosperous and sustainable future. Get your free ticket to the event that propels the digital economy on March 8-9, 2023 at ExCeL London.
DCW London is the most important tech event of the year in the UK. It brings together Europe's leaders in ICT infrastructure; investors, data center players, service providers, collos, hyperscalers in one place.
This two-day event offers networking opportunities to connect. Connect with the right companies and meet with experts you can engage with, whether you're looking for the right company to partner with or want to keep up with the latest trends in energy management, cooling, commissioning and more.
6 reasons to attend DCW London
Meet with numerous C-level decision makers

International audience, European orientation

Get the latest information from industry experts

The most important Tech event in terms of business in the UK

By the sector, for the sector
Take the opportunity to meet Rentaload at DCW London and discuss with our intelligent test and commissioning experts:
We look forward to seeing you there!
Share This Story, Choose Your Platform!